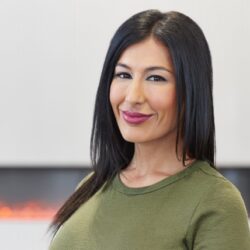 Your New Personal Health & Life Coach.
Fatima Mahida is a Board Certified Women's Health Coach NBC-WHC, Certified Trigenics Trainer CTT, and a Functional Nutritionist.
She's been coaching for 14 years and created her CEO of Life Program, which she used to heal herself from 12 chronic injuries surgery-free, fix hormonal imbalances, build a bulletproof internal drive, overcome fear, depression and anxiety, improve mental clarity and drop 55 lbs without setting foot in the gym.
All that happened as she enjoyed delicious foods and having time for the things she loved daily. Her method of self love, soul success, and healing will guide you through an extremely powerful transformation, one that gracefully expands and embodies prosperity in your life.
–
Her clients range from leaders to mom-preneurs to athletes. Fatima has been featured in Strength Sensei, Calyx, and The Passion Centre where she discussed peak performance methods for champions, work/-life balance, adrenal burnout, and mental health.
My Mission
To help women around the globe become the CEO's of their life.
I coach busy, ambitious women into encoding their Souls Unique Frequency.
Magnetizing their essence while elevating the world.
Embodying the role of being The CEO of their Life.
 Living each day with Wealthiness, Joy, Time & Financial Abundance, Health & Happiness.
While Preventing, Screening & Minimizing Chronic Illnesses.
By guiding them as they create and share their unique gifts with the world
So they can live an energy rich life on their terms.
Training and Certifications
Certified Women's Health Coach
BioSignature 1 and 2
P.I.M.S.T Poliquin Instant Muscle Strengthening Techniques
DTS Level 1
Trigenics for Trainers Upper and Lower Body
BioPrint Level 2
Fix Your Period Apprenticeship
The Integrative Women's Health Institute
The only ICHWC internationally approved program for women's health special
My clients – people are diverse,
but one thing unites all: an active position in life.
Years of Health Coaching Experience
Happy Customers with References
Contests and Conferences attended
It's time to take care of your health now! All you need to do is just send us a message via the form below.